Welcome
We are pleased to present the sermons of Dr. James Merritt, one of America's great expository preachers. For more than 40 years, Dr. Merritt has preached God's Word through the local church he pastors, as well as through Touching Lives weekly television broadcasts. 
Dr. Merritt's messages are available here via digital download, along with outlines, note pages, PowerPoint slides and other resources, for a modest cost.
The Bad Guys
13503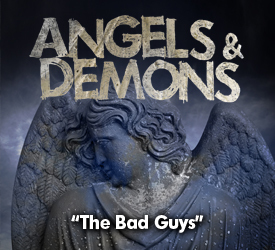 Scriptures: Mark 5:1-20, 1:22-34, Genesis 1:31, James 2:19, 4:7, Psalm 106:35-37, Matthew 10:1, Deuteronomy 32:16-17, 1 Corinthians 10:20, 1 Timothy 4:1, 1 John 4:4, Colossians 2:15, Acts 8:5-8
At the beginning of creation, all was good. There were angels, but no evil. Somewhere between Genesis 1:31 and Genesis 3:1 something happened. There was a rebellion in the angelic world with many angels turning against God and becoming evil. The Bible teaches that there are, indeed, evil spirits of a supernatural nature, that exist today. Where did they come from, what are they like, and what do they do? In this message, Dr. Merritt explores the topic of demons and the demonic.
"Is it possible for a Christian to be demon-possessed? The answer to that question is a dogmatic 'No.' No demon is more powerful than the Holy Spirit. Once the Holy Spirit takes control of a Christian's life, not all the demons in hell can force Him to move out." --Dr. Merritt
Keywords: angels, demons, devil, Dan Brown, Illuminati, Da Vinci Code, Tom Hanks, movie, Rudolph Bultmann, theology, spirits, evil, Gerasenes, possessed, possession, cast out