Welcome
We are pleased to present the sermons of Dr. James Merritt, one of America's great expository preachers. For more than 40 years, Dr. Merritt has preached God's Word through the local church he pastors, as well as through Touching Lives weekly television broadcasts. 
Dr. Merritt's messages are available here via digital download, along with outlines, note pages, PowerPoint slides and other resources, for a modest cost.
No Excuses
29400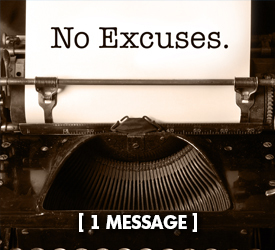 Scriptures: Luke 9:57-62
Our culture is full of excuses. Instead of taking responsibility, so many today are getting around, dodging and circumventing in an effort to "own up" to nothing. Spiritually our culture begs the question, "What does God do with all these excuses?" Do we have any excuse for not following Christ? In this message, Dr. Merritt explains why there is no reason on earth that everyone should not surrender their lives to Christ. In Luke 9, three men were given the opportunity to follow Christ and they all said no. But when Jesus looked at their hearts, he found them without excuse.
"One thing I love about the Lord Jesus was he never painted an overly rosy picture about discipleship, commitment, surrender, or the ministry. You won't find any health and wealth gospel on the lips of Jesus. You won't find any prosperity gospel in the sermons of Jesus. Jesus never promised a Rolex on every wrist, a Mercedes in every garage, a diamond on every finger. You won't find where Jesus ever said that if you'll follow him every sea will be calm, every road will be smooth, every sky will be blue. The Christian life is not a feast, it is a fight; it's not a banquet, it is a battle. If you become a Christian you won't have to go looking for trouble, trouble will come looking for you. " --Dr. Merritt
Keywords: excuse, theology, cost, Billy Sunday, society, responsibility, character, procrastination, commitment, R.A. Torrey, William Borden