Welcome
We are pleased to present the sermons of Dr. James Merritt, one of America's great expository preachers. For more than 40 years, Dr. Merritt has preached God's Word through the local church he pastors, as well as through Touching Lives weekly television broadcasts. 
Dr. Merritt's messages are available here via digital download, along with outlines, note pages, PowerPoint slides and other resources, for a modest cost.
I:Matter (Series)
11400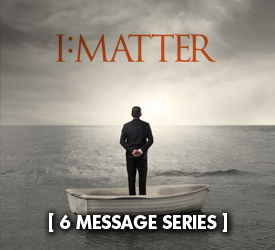 The search for significance is a journey that many in the post-modern world take. What brings real and relevant purpose to our lives--in other words, what makes our lives really matter? In the, I:Matter sermon series, Dr. Merritt unwraps the search for significance through milestone "I am" statements made by Jesus Christ. Each statement brings us closer to understanding how a relationship with Christ brings us more than just life--but life that makes a difference.
"When you surrender your life to Him and allow Him to be the shepherd of your life and then on a daily basis, you come to the Word of God and you feed on the bread of life and every day by following His will for your life and seeking to live for Him and His glory--that is when you find security and that is when you find significance and that is when you find satisfaction." --Dr. Merritt
Keywords: significance, Easter, Jesus, resurrection, overcoming, statements, I am, bread, life, way, truth, good, shepherd, morning, star, hope, light, world, darkness, door, me, open, knock
Series messages include:
Dead Man Walking
No Need to Worry
Are You a Satisfied Customer?
Which Door Should I Take?
Get Real
Don't Be Afraid of the Light