Welcome
We are pleased to present the sermons of Dr. James Merritt, one of America's great expository preachers. For more than 40 years, Dr. Merritt has preached God's Word through the local church he pastors, as well as through Touching Lives weekly television broadcasts. 
Dr. Merritt's messages are available here via digital download, along with outlines, note pages, PowerPoint slides and other resources, for a modest cost.
A Bridge Over Troubled Waters
24702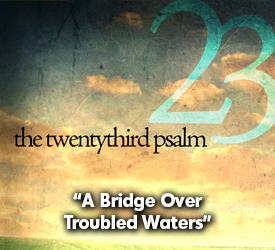 Scriptures: Psalm 23:2, 119:103, Ecclesiastes 3:13, Jeremiah 15:16, Ezekiel 34:14-15, Ephesians 1:3, John 7:37-39, 4:14
Is your life filled with stress? Look just about anywhere and you'll see people all stressed up with no place to go. Stress is a problem. It's a problem for pastors and church members. It affects our ability to rest--we're working longer and sleeping less than any other time in our nation's history. Lack of rest, in turn, increases stress, and creates a cycle of physical, emotional and spiritual fatigue that seems unending. In Psalm 23:2, we find a beautifully worded relief for stress--a bridge over our troubled waters. When we allow Christ to become our Shepherd, He promises rest for our body, soul and spirit. Dr. Merritt details true relief for stress and finding real rest through examining and living out the foundational teaching of Psalm 23:2.
"I find it interesting that the first thing the shepherd leads the sheep to do is rest. Normally when we wake up in the morning the first thing we do is get ready for work, and then we work until we get tired, and only then do we rest. Did you know the Lord wants you to rest first before you go to work? That rest is when you lie down in the presence of the Shepherd; when you just take time to be with the Shepherd and enjoy fellowship with the Shepherd. 'Take time to smell the roses' is not just an old saying. It really is Biblical. A shepherd knows that even sheep have to take a break, and so should you." --Dr. Merritt
Keywords: rest, relief, relaxation, Jesus, Shepherd, twenty-third, Psalm, enjoy, die down, sheep, pastor, stress, refreshed, water, stream, Palestine, hot, meadows, symphony, Africa